Real Estate Attorney Las Vegas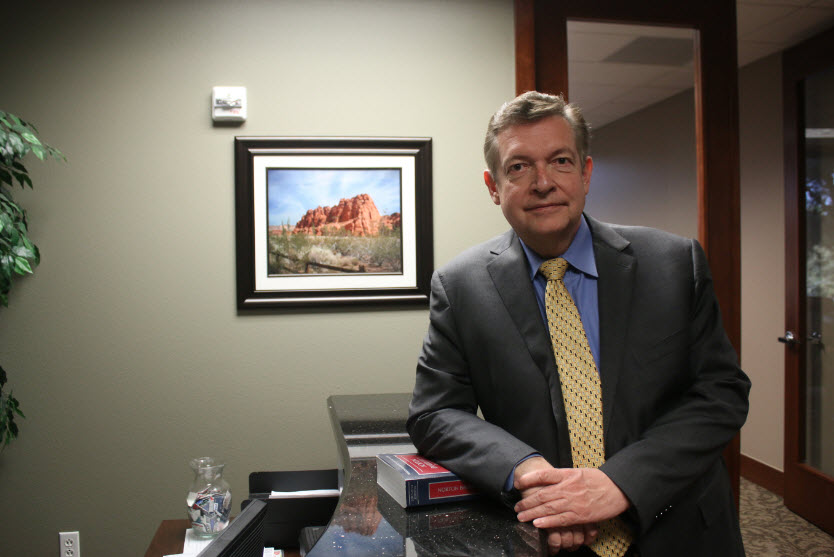 David Winterton is a specialized real estate attorney in Las Vegas, Nevada. The firm's real estate law practice involves representation of residential, commercial and industrial developers and lenders and all aspects of real estate property acquisition, financing, exchange, leasing, sale syndication, development and construction throughout Las Vegas and all of Nevada. Our leasing practice includes representation of landlords and tenants in ground lease, regional shopping center, and office complex situations. The firm protects the lender's interest from foreclosure, eviction and collection proceedings, as well as the mortgagee.
The firm has extensive, successful experience in real estate development and complex real estate litigation. We have been able to help many of our clients retain their homes free and clear of any mortgages or liens. Our firm has successfully obtained millions of dollars in awards for our clients, including a jury verdict of $10.8 million in a real estate partnership dispute case.
Mr. Winterton's experience as a real estate attorney and broker provides him an edge in representing individuals before the Nevada Real Estate Commission. The firm is very successful in debt negotiations, dispute mediation, restructuring of debt, foreclosures, and condemnations. Mr. Winterton is also experienced with landlord tenant practice including ground leases, regional shopping centers, and office complexes. The firm has successfully resolved commercial and residential landlord tenant disputes, evictions, and provides drafting, reviewing and negotiation of leases and contracts.
The area of construction law has become more complex over the years, but our firm has the knowledge to resolve the complicated mechanic liens as well as construction law issues and union disputes. We provide protection for the landlord during construction and subcontract disputes to obtain a successful outcome for each one of our clients.
Las Vegas Bankruptcy Attorney Specializations:
Real Estate Contract & Lease Negotiation
A real estate contract is a legally binding document between two or more parties. Whether you are looking to buy, sell or lease commercial or residential property in Las Vegas, Nevada, you should always seek out the services of an experienced real estate lawyer in Las Vegas to draft, review and/or negotiate a real estate contract that fully suits your specific needs.
Although buyers, sellers, tenants and landlords (both residential and commercial) believe they understand most parts of a real estate contract or lease agreement, it is still important to seek legal review and guidance from a real estate attorney before you sign. Many real estate legal disputes are oftentimes the result of a poorly understood real estate contract or lease agreement. Without consulting an experienced real estate lawyer you run the risk of expensive and unnecessary legal fees if negotiation or litigation occurs in the future.
Real Estate Agents are Not Legal Advisors
While it is customary to trust your real estate agent, it is not the best practice to believe that your real estate agent has all of your best interests in mind. The purchase contract is the most important document in any real estate transaction. Considering that real estate purchases are often one of the most costly and important decisions in a lifetime, why would you rely solely on the experience of an agent whose only education on real estate law was a six-hour class?
Legal advice from an experienced real estate attorney in Las Vegas can be one of the most valuable parts of protecting your real estate investment. Real estate lawyers can assist in negotiating the best possible contract for purchase, sale, or the leasing of real estate. Having an expert in Nevada real estate law in Clark County will ensure that a carefully drafted agreement will serve all of the parties in the deal. In addition, it also dramatically reduces the potential for problems and disagreements and lawsuits later on.
Our Process of Negotiating a Real Estate Contract or Property Lease
Often times we find the biggest mistakes made during real estate buying or selling is the belief that there are "standard" real estate contracts in Nevada. Any experienced real estate attorney knows that a good and comprehensive agreement never follows the formula of "one-size-fits-all." Each contract needs to be drafted based on the client's specific needs, terms and requirements. The best way to negotiate a real estate contract is typically by hiring an experienced real estate lawyer in Las Vegas before entering into any transaction.
Benefits of a Real Estate Attorney in Negotiating a Real Estate Contract
It is not uncommon for real estate transactions to encounter problems that require legal assistance. If this occurs, there is no need to resort to litigation, instead, your first course of action should be to consult with an experienced real estate attorney to review, discuss and evaluate all options. In many instances, an experienced real estate attorney like David Winterton may be able to enter negotiations which will prevent litigation.
Here are the top 5 benefits of hiring a real estate lawyer to negotiate on your behalf:
Control of a Real Estate Transaction – Our specialized real estate attorneys can help direct exactly what you want to happen.
Avoid Litigation – Instead of provoking litigation, our lawyers can help work out the best path towards a solution.
Legally Sound Documents – We can skillfully draft what was discussed and deliver a legally sound agreement that covers all contingencies.
Limit Liability – Our attorneys will advise and draft contracts that will limit your liability on potentially troublesome real estate transactions including wrap-around contracts, sales/leaseback transactions, or seller carrybacks.
Estate Planning – Our lawyers who also specialize in estate planning can greatly help families, before or after death, decide the best options to hold title to a property, transfer the title of a property as well as how a property can be partitioned.
Real Estate Refinances, Short Sales or Foreclosures
Nevada real estate law can be complicated, and most buyers and sellers can benefit from hiring a real estate attorney like David Winterton once you've considered refinancing, short selling, or even walking away from your property.
The truth is that whether you want to refinance, short sale or foreclose on your property, you are facing a very complicated business decision that will likely effect you for a decade to come. As with any important business decision, you aren't likely to choose wisely if you are not properly informed on all relevant considerations and options first. Our real estate attorneys can help you learn all of the legal facts of your circumstance and help you navigate the best option. When considering how to deal with distressed real estate it is actually any number of irregular circumstances that can make a big difference in a favorable outcome. A real estate attorney is not only to properly identify and understand the significance of the facts that are favorable but also evaluate your troublesome facts too.
That is where the experience of David J. Winterton & Associates makes a difference. We have successfully advised hundreds of Las Vegas homeowners find the answers for the best course of action regarding their distressed real estate.  Our attorneys have extensive knowledge of the relevant legal statutes, lender practices and real estate case law and will help you develop a customized strategy with your best interests in mind.
Evictions and Unlawful Detainers
Evictions in Las Vegas are also commonly referred to as Unlawful Detainer Actions. This pertains to the process through which a landlord can remove a tenant from commercial or residential property for issues such as non-payment of rent or other specific reasons defined under Nevada's ever-changing landlord/tenant laws. Whether you are a tenant or the property owner, real estate attorney David Winterton in Las Vegas can help protect your rights under the law and help you successfully resolve a case of eviction.
Protection of Tenants from Unlawful Eviction
Our attorneys have been successful in defending clients facing eviction for over 30 years. We know Nevada law and understand all techniques that can be used to challenge eviction proceedings. Although every situation is different, we can assist in providing resolutions in a tenant's favor. During our process, we examine details of your eviction case, and then construct a legally persuasive argument for keeping your tenancy.
Las Vegas Eviction Process Attorneys
In addition to helping tenants with eviction, our real estate lawyers also handle tenant eviction cases for property owners. We can help you with troublesome tenants who require lawful removal for a number of causes defined by Nevada law including:
Failure to pay rent
Nuisance complaints
Owner move-ins
Other lawful grounds for eviction
With over 30 years of handling a wide range of property-related matters for clients throughout Southern Nevada, David Winterton will do whatever is legally possible for the most favorable outcome while fighting or initiating an eviction. David's extensive experience handling real estate matters allows him to help protect tenants' rights to ensure they have a place to call home and property owners secure their real estate investments.
Zoning and Land Use Real Estate Legal Matters
The attorneys at David J. Winterton & Associates can assist you with any real estate matter related to zoning, land use, and governmental entitlements to develop or use property. We represent landowners who want to expand, developers looking to build, or any other person in Nevada in need of legal assistance with land use, property development, or zoning matters including:
Zoning changes
General planning amendments
Specific planning amendments
Building permits
Administrative hearings
Conditional use permits
Environmental impact reports
Entitlements
David Winterton is an aggressive, thorough and detailed Las Vegas real estate lawyer. When he goes into the courtroom or an administrative hearing, he will be thoroughly prepared with all the facts of your case. David will stand up for you in front of the zoning administrator, the planning commissioner, the zoning review board, and even the Las Vegas or Henderson city councils and expertly present that information at hand.
Schedule a Consultation with Real Estate Attorney David Winterton
For a consultation concerning your real estate related legal matter contact us today.