Appellate Law & Litigation Las Vegas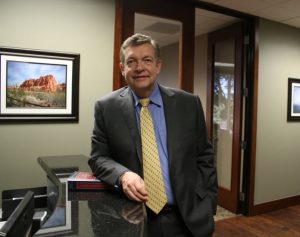 The law office of David J. Winterton & Associates has successfully handled significant appellate law matters in the State of Nevada. The firm is recommended by other law firms to handle their appeals and has a high appellate success rate that beats most odds. The firm has successfully appeared in appeals before the 9th Circuit Court of Appeals, the Bankruptcy Appellate Panel, the Federal District Court, the Nevada Supreme Court, and admitted to the US Supreme Court.
Achieving success in the area of appellate law requires a combination of sophisticated legal analysis, tenacity, originality, and the ability to provide fresh new perspective and ideas. David Winterton applies a wealth of knowledge and insights formed through over 30 years of hard fought experience. While an appellate case may contain many complex underlying issues, the best appellate arguments cut through the complexity, and effectively clarify and persuade in both written and oral advocacy. David Winterton brings all of these skills to each appeal that the firm handles.
In addition to traditional appellate litigation activities, the Appellate and Constitutional Law group provides a wide range of services on constitutional and related issues that include:
Formulating and briefing new legal arguments in the trial courts to ensure that legal arguments are developed and preserved for appeal
Developing and advancing constitutional and policy arguments on proposed legislation and work closely with Legislatures to amend statutes.
Developing novel or complex legal theories, sometimes long before the suit is filed
Advising on possible challenges to statutes and the effects of regulations on proposed transactions or business plans
Analyzing proposed legislation and regulations from legal and policy perspectives, and engaging in other forms of legislative and public policy advocacy
Managing complex litigation
We are one of the leading firms in Nevada with a number of successful decisions that have even been cited by other attorneys in Nevada with regards to the duties of real estate agents and alter ego. This is all attributable to our firm's thorough and complex analysis of the facts and the application of the law prior to filing an appeal. We have successfully litigated appeals arising at all stages of cases, from pre-trial rulings through post-trial matters, in both criminal and civil cases. The firm has also resolved a number of appeals through mediation in order to avoid the time and costs of completing an appeal.
Basis for an Appeal
The basis of an appeal may only be based on evidence introduced during trial. The appellate attorney must employ convincing arguments in crafting the appeal to prove that either serious legal errors affected the trial outcome or the verdict was not supported by weight of the evidence. If being appealed to the U.S. Supreme Court, grounds for appeal must relate to areas under federal jurisdiction, such as Constitutional rights violations.
Schedule a Consultation
If you are seeking advice on whether to pursue an appeal, please contact us now to arrange a consultation.